Emily Mazo-Rizzi Bio
A Bit about Me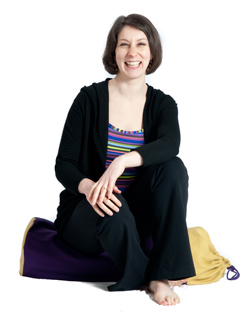 I am a member of the Federation of Pilates Method Professionals (Fpmp) and hold a CQP-ALS (Certificat de Qualification Professionnelle d'Animateur de Loisir Sportif) certification for teaching Pilates in France.
I've been teaching Pilates since 2010, and it has been part of the many chapters of my life since 2005. When I first started I was an Internet Project Manager and I attended Pilates classes after work, what a contrast and pleasure it was to move and breathe!
In 2009 after 10 years of my computer-filled work life I traded in my sedentary profession for a new one, in movement and in constant contact with others. I moved to Boulder, Colorado for a year to attend the 900 hour The Pilates Center Teacher Training Program.
In 2012, I continued my Pilates practice throughout my first pregnancy and did the same in 2017/18 when I was pregnant with my second daughter. It kept the aches and pains that many pregnant women complain about at bay, kept me fit and healthy and ready for childbirth. Pilates was an integral part of my recovery from the pregnancies and childbirths and helped my body meet the physical demands of caring for children.
Life is ever changing and Pilates is the perfect method to accompany the physical challenges each phase presents, I have experienced this first hand in my own life.
Through Pilates I hope to help you meet the physical challenges in your life and learn to feel more at home in your own body, to strengthen it in harmony with your mind and spirit in order to be better equipped to execute your daily activities.
Training
I left Paris for a year to attend the world renowned 900 hour teacher training program at The Pilates Center in Boulder, Colorado - USA. Founders of The Pilates Center, sisters Amy Taylor Alpers and Rachel Taylor Segel, studied the Pilates method with Romana Kryzanowska one of Joseph Pilates' original students and apprentices who later took over the studio.
The Pilates Center teacher training program is taught by some of the most esteemed and dedicated teachers in the field. It is internationally recognized and respected for its rigor and quality as it teaches every aspect of this complex and vast method. High expectations are set for the students who are extensively tested in knowledge of the method and anatomy as well as in pedagogical methods and practice.
I have also attended workshops on teaching Pilates to pre-natal and post partum women. Notably I trained with Carolyne Anthony of the Center for Women's Fitness .
Continuing Education
Continuing education is required to maintain the diploma thus encouraging a constant exploration of the method, one's own practice of it and an on-going relationship and collaboration with Pilates teachers from around the world.